.

We offer access to, and install, the following list of products by MPH Radar®. Don't see what you're looking for? Let us know, it may simply not be listed. If it's not something we normally offer, we'll do our best to get it for you. We welcome your requests and suggestions.
Please contact our Estimate Dept. for a quote on current pricing information, and further information regarding various models available and product options. Pricing is not gauranteed and is subject to change.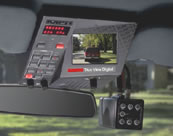 True View gives you all of the benefits of digital recording without requiring expensive computer servers or complicated software.
• Make DVD quality recordings.
• Preserve the original recording for court.
• Most economical method for storing video recordings
• Play back the video on an inexpensive consumer DVD player.
• Make high-quality digital copies.
• E-mail video segments or save them on computer
• Little or no officer retraining.
• Save thousands on server and software costs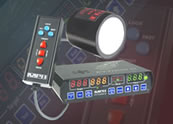 Python Series III
Python Series III, the third generation of the Python family, builds on its predecessors, by giving you all of the features you need, while being even easier to use that the Python II.
• The smaller readout unit has a completely new look, with bigger, easier-to-read displays.

• Our "roadway" mode display makes it easy to see what mode the radar is in, even after you lock in a speed.

• The K-band antenna unit is the smallest on the market.

• The simple remote control still allows you to keep your eyes on the road where they should be instead of fishing for buttons.

• The Python III accepts MPH's speedometer interface module, the only one that does not force you to modify your cruiser.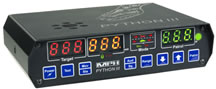 Python Series III FS
Python Series III FS has all of the features of the standard Python III, along with fastest vehicle and same direction modes.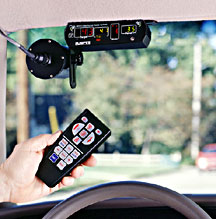 Bee III
The BEE Ill's patented "Automatic Same Direction" ("ASD™") mode eliminates one source of error in speed measurement by determining whether the target is approaching or receding, no input from the officer is necessary. In stationary use ASD allows the officer to select a direction and the radar only measures targets moving in that direction - all other targets are ignored; in standard mode the BEE III measures targets in both directions and informs the officer the direction that the displayed target is moving.
The BEE III is the smallest radar available, yet it's packed with more features than any other. The industry's smallest detachable display has the largest set of speed windows, and they're color coded! The industry's smallest Ka-band antenna is weatherproof and is hard for violators to detect because no telltale lens is visible.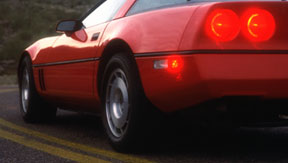 POP™
The POP™ feature (patent pending) allows speed measurements without alerting radar detectors.
POP is a technology that has only been implemented by MPH. It was introduced on MPH's handheld radars in 1999, and it has also been incorporated into MPH's newest dashmounted radars.
POP technology is aimed at an old problem - defeating radar detectors.
Ordinary radars try to circumvent detectors with a Standby or Hold switch. However, this method simply doesn't work with modern radar detectors. By the time the radar has been on long enough to process a speed, the transmitter has already set off every radar detector within two miles of the operator.

MPH's exclusive POP technology makes the MPH's radars the only ones that can measure vehicle speeds without setting off any radar detectors. This technology is only made possible by MPH's expertise in manufacturing microwave sources that can turn on and stabilize quickly and by digital signal processing (DSP) techniques. The radar can obtain an accurate speed reading in milliseconds, which is far faster than an operator can operate a switch.
When an MPH radar is placed into POP mode, the radar emits a short burst of energy when an antenna button is pressed. It quickly measures the vehicle's speed. The radar then goes immediately into standby and displays the target's speed for a couple of seconds. The entire measurement happens so quickly that the radar detector doesn't see it.
If the vehicle's speed is not a violation, the operator does nothing and no one knows that he's running radar. However, if the speed is of interest, he can place the radar into normal transmit mode, allowing the officer to track and lock the vehicle's speed.

MPH recommends that the officer obtain a tracking history of a speed violator by operating the radar in normal transmit mode after determining with POP mode that the vehicle is speeding. This is because most radar case law is based on tracing a vehicle in normal radar operation. The information obtained in POP mode is accurate and reliable, but may not be supported by case law in court.